Drum Major
Lt. Col. John Buturla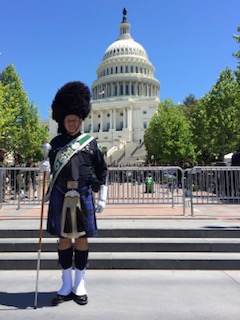 John Buturla has served the public for the nearly 39 years in law enforcement, homeland security and city administration. He had a very successful career with the Connecticut State Police, where he attained the rank of Major and served in many assignments, including as a Commander of Patrol and Major Crimes. He was Director of Labor Relations, and served as the Chief of Staff for the department. In October of 2001 he was appointed as the first Deputy Director of Homeland Security for the State of Connecticut, then went on to be the Director. He was responsible for building the organization, in the wake of the attacks on 9/11, which is still in existence today. He served two Governors during his tenure. He left the state and became the Chief Administrative Officer for the City of New Haven, Connecticut, where he managed the majority of city operations. During his tenure he lead the city's efforts to improve service delivery to citizens, enhanced community outreach, implement cost savings reorganizations and improved the efficiency of public safety.
He left New Haven, making a decision of the heart, to serve his hometown of Stratford, Connecticut as its police chief, until he came to Richmond, VA. as the Deputy Police Chief for Support Service. He also took on the responsibilities for the Administration Division. In March of 2015 Mayor Dwight C. Jones appointed him as the lead and project director for the UCI Road World Championship, which was in September of 2015. After a very successful event, he was appointed as the Interim Deputy Chief Administrative Officer for Operation for the City of Richmond in October 2015, where he served until his retirement in September of 2017. Buturla continues to serve the country as a Senior Consultant for the Naval Postgraduate School, Center for Homeland Defense and Security, where he has served for a decade. Since early 2017, Buturla has had the distinct honor and privilege to serve as the Drum Major for the Metro Richmond Police Emerald Society Pipe and Drum Band.
Pipe Major
Sgt. Michael McCann Pellentesque felis metus, luctus id blandit semper, porttitor sed nibh. Sed tristique massa a accumsan venenatis. Integer molestie est quis consequat dictum. Aliquam sagittis sem at gravida laoreet. Cras posuere vitae odio ac ullamcorper. Ut ullamcorper mauris quis nulla pretium, ut dapibus nibh scelerisque. Curabitur orci tellus, elementum aliquam volutpat vitae, egestas sed risus. Praesent sodales at nibh a tempus. Phasellus id turpis ac nulla efficitur lobortis.